Date for P.T.A. Program with Christmas Play set for Monday night!  Assembly performance on Friday week at one o'clock! Checked on my account and discovered I have $27 – beside my dividend for $27* from the First National in Gallup – Lucky Me!  Wrote letters at night.
*$27 in 1934 is = to $476.69 today!
Here's what else was happening 80-years-ago today: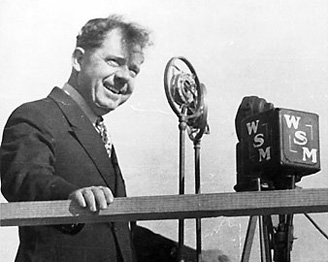 The former Governor of Louisiana, Huey P. Long,  known as "The Kingfish" makes a speech titled Share the Wealth, click here to read it.
Photo courtesy of hueylong.com
On December 11, 1934, William Griffith Wilson, known as Bill W.,  took his last drink of . He didn't know it at the moment, nor did he know he was about to start a new chapter in his life, and the lives of thousands of Americans.  He and a physician went on to create Alcoholic's Anonymous.   Read the article from The Saturday Evening Post here.
A fire breaks out in the Kern Hotel in Michigan killing 32 people including 7 state senators, 44 others are injured.   Blizzards were creating havoc on the East coast and there was mystery in the Galapagos, a movie coming soon on the saga.