Went to Hagerman for 2nd Sunday meeting of the League –  Hazel Hanson and "Shorty" Miller were there through not together – I went with Johnston's!
Here's what else was happening 80-years-ago:
President Roosevelt has his 6th Fireside Chat – tonight's topic Government and Capitalism.
The St. Louis Cardinals clinched the National League pennant on the final day of the season when the New York Giants were eliminated by losing to the Brooklyn Dodgers 8-5 in ten innings.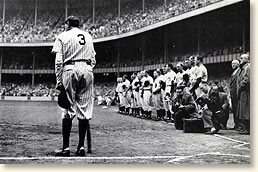 Babe Ruth played his final game as a Yankee, going 0-for-3 at Griffith Stadium in Washington during a 5-3 loss to the Senators.
A new Popeye hits the big screen  Axe me Another
and Today was the day to Fall Back for Daylight Savings Time.