(This is an entry from the journal entitled "Mexico Summer" written by Elizabeth Whipple Lancaster Carsey 80-years-ago)
Registering, one general meeting and the hospital took most of the day.  Mrs.  Regensberg came at 10:30 P.M. Jessie Tennison stayed with us in Betty's place.
Here's what else was happening 80-years-ago today:
Angry Italians staged anti-British demonstrations in Rome. Students shouted anti-British slogans and vandalized shop signs that were written in English.
In Chicago, Big Joe Williams and the Washboard Blues Singers made the first recording of the classic blues song "Baby, Please Don't Go".
The British government said it would raise the school-leaving age from 14 to 15.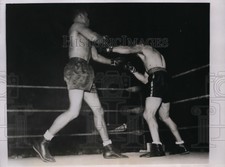 John Henry Lewis defeated Bob Olin in St. Louis for the World Light Heavyweight Championship of boxing.