(This is an entry from the journal entitled "Mexico Summer" written by Elizabeth Whipple Lancaster Carsey 80-years-ago)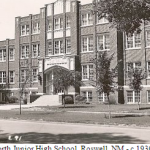 Left Van Horn at 5:25, one hour late, reached Roswell at 12 per schedule.  Mrs. Grady was glad to see me by the hug and kiss I got!  Arranged for payments at ban, shopped and visited Velma.  Later saw Mrs. Burdette and stayed there for supper.  Morris' are sweet as ever.  He is pale but looked well in a tan suit and shoes to match.  "Shorty" Miller is married and Art Corum and Hubbard have work in the Educ. end of the C.C.C work I hear.  Hazel Smith has a job in Central or South America.  (Lucky Girl!)  Alyce Claire hasn't come yet. A note from Mrs. Wilmot asks me to talk to the class about Mexico tomorrow.  Mrs. Elmore has had the organ all summer so I may not have it this year! Remains to be seen!  Saw Pauline Regensburg and Lavora Hedrick-
Here's what else was happening 80-years-ago today:
As part of United States non-interventionism in the face of growing tensions in Europe, President Roosevelt signed the first of the Neutrality Acts of 1930s into law.
Vern Kennedy of the Chicago White Sox pitched a 5-0 no-hitter against the Cleveland Indians.
A new New Yorker and Saturday Evening Post Magazine.
A new Popeye the Sailor.