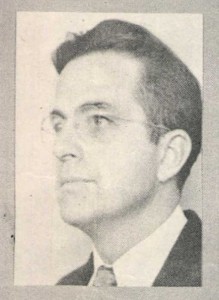 William Arnold Carsey: Born December 22, 1907 – Died   August  12, 1985  Flagstaff, AZ.  He graduated from Texas Tech  with a BA in History and a  Minor in Spanish.  Later in life he proudly earned his Masters  Degree from NAU (Northern Arizona University) where a scholarship is now established in his name.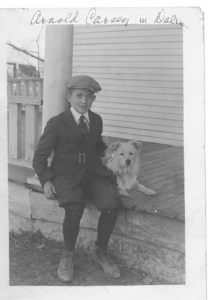 Arnold was the youngest of 6 children in the  Franklin Davis Carsey family.  His only sister paid special attention to him as he was 13 years younger.   He and Emmalu  Carsey Gibson were close his entire life.   In fact, in the journal when he has his appendix operation – he returns to her house in Dallas to recover.
Arnold spent his early years working in the West Texas oil fields  or as a teacher during the depression, until he landed a job with the US government as an embassy official.   In fact, he was training in Washington D.C. on VE day.  (Imagine!)  For 6 years he worked at the US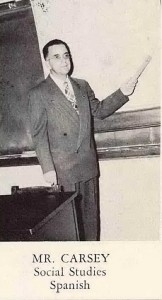 Embassy in Monterrey,  Mexico.  He was then transferred to Chulla Vista, Mexico where he worked for 4 years.    He was preparing to move  after notice of a  transfer to Barracia Columbia he received a telegram notifying him he lost his job due to the Eisenhower administration tax cuts  He then returned to New Mexico  as a teacher.
Arnold suffered a debilitating stroke at the age of 68 and never fully recovered physically.   He still managed to travel the world with Elizabeth at his side always taking care of him.  Another stroke took his life at the age of 78.  Read more about him by clicking this link.  Arnold Carsey (1985 eulogy) (1)
Arnold was previously married to Lucille Northcutt Carsey (Born Dec 2, 1908) the daughter of a prominent rancher in San Angelo,TX.  She was also a school teacher. She died in San Angelo on June 24, 1932.  She is buried in an unmarked grave.  Click here to read more.
I believe the summer of 1934 was the first time Arnold met Elizabeth – he was a widower only 2 years.    She was in Mexico taking classes, he was visiting.    The journal begins at the end of summer, but still shows Elizabeth's fondness for him from the very beginning.