First time for the robes. Don't look as bad when everybody else wears them. After church went to dinner at Misses Palmers.  Martens, Bizbees, Shaffer, Snipes, Alyce Claire and I were there.   Lovely tables – Red candles and carnations.  At night we went window shopping with Bernard and Mrs. Johnston.  Found out that he did not care for the tie-chain clasp.  What to get?  What to get?  After they left. (about 8!) we ate supper at Shorty Hood's and went to see "College Rythm." Good.
Here's what else was happening 80-years-ago today: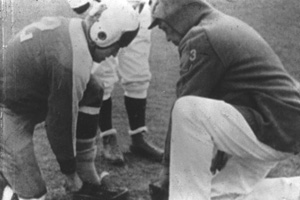 The second NFL Championship Game was played at The Polo Grounds in New York City.  It was known as The Sneakers Game.   The NY Giants defeated the then undefeated Chicago Bears 30-13.  The Giants head coach decided that sneakers would fare better on the frozen ground and the team switched to basketball sneakers in the third quarter when the team was trailing 10-3.   Amazingly NY outscored the Bears 27-0 in the fourth quarter for the win.
It's national Christmas Card Day.