(This is an entry from the journal entitled Mexico Summer written by Elizabeth Lancaster Carsey 80-years-ago.  Click here to read more)
The best teachers' meeting so far.   Perhaps I was in the mood for it or Mr. Pope was , anyway, I minded it least of any we have had.  Took back extra make-up that I got for Ty-Ty and traded it in for a clock – guaranteed for a year and that's probably as long as I'll need it.
Here's what else was happening 80-years-ago today:
The president moves forward on his New Deal and the Lindberg Trial continues.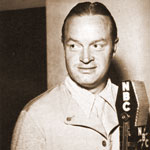 The nation first heard Bob Hope on network radio as part of "The Intimate Revue"