The story continues with the second journal.  This is an entry from her personal diary, by Elizabeth Lancaster Carsey 80-years-ago. Click here to read more.
No post today.
Here's what else was happening 80-years-ago today
David Frankfurter was sentenced to 18 years in prison for the murder of Wilhelm Gustloff.
Salvador Dali is on the cover of this week's Time Magazine
The municipal transport committee in Glasglow, Scottland decided to stop referring to "subway" and instead call it the "Underground"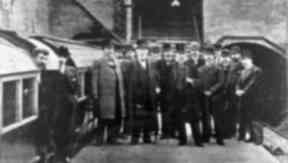 The Nationalist Canarias sank the Soviet cargo vessel Komsomol as it left Valencia.