(This is an entry from the journal entitled Mexico Summer written by Elizabeth Lancaster Carsey 80-years-ago. )
Letter from Carsey!  He is leaving the 12th for Mexico on the Rotarious Trip.  I wrote him to find out about the school.  Harry Mulroz and Mr. Buffington came to dinner. Tennis, of course, all afternoon. Letter from Alyce Claire. "Delay in the Sun" is fair.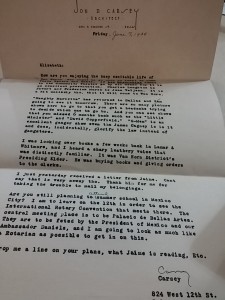 Elizabeth,
How are you enjoying the busy excitable life of Van Horn?  You ought to go once at least to Loma Vista Tavern and skate.  If Les Miserables comes to the community theatre go by all means for it is an excellent presentation. Charles Laughton is Javert and Frederick Marsh is Jean Valjean. It is a bit unlikely tho, that it will come to Van Horn.
"Naughty Marietta" has returned to Dallas and I am going to see it tomorrow.   There are so many picture shows here to go to that you get a headache trying to decide which one to go to.  And you can see shows that you missed 6 months back such as "Little Minister" and "David Copperfield" "G-Men" is and excellent ganger show even tho James Cagney is in it and does, incidentally, glorify the law instead of gangsters 
I was looking over books a few weeks back in Lamar and Whitmore, and I heard a sharp leathery voice that was distinctly familiar.   It was Van Horn District's  Presiding Elder.  He was buying back books and giving orders to the clerks. 
I just yesterday received a letter from Jaime.  Cant say that is is very newsy tho.  Thank him for me for taking the trouble to mail my belongings.
Are you still planning to attend summer school in Mexico CIty?  I am to leave on the 12th in order to see the International Rotary Convention that meets there.   The central meeting place is to be Palacio de Bellas Artes.  They are to be feted by the President of Mexico and our Ambassador Daniels, and I are going to look as much like a Rotarian as possible to get in on this.
Drop me a line on your plans, what Jaime is reading, Etc.
Carsey
824 West 12th St.
Dallas, Tex.  
Here's what else was happening 80-years-ago today:
Tensions escalate over seas and the cost of the floods continues to climb.