(This is an entry from the journal entitled Mexico Summer written by Elizabeth Lancaster Carsey 80-years-ago.  Click here to read more)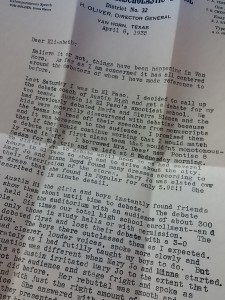 Dr. Barr's last service – Splendid – "Stewardship"   Letter from Carsey – Says whether or not I go to Mexico will affect his plans for summer!
Dear Elizabeth;
Believe it or not, things have been happening in Van Horn.  As far as I am concerned it has all centered around the debaters of whom I have made reference to before.
Last Saturday I was in El Paso.  I decided to call up the debate coach of Austin High and get a debate for my two teams.  Austin is El Paso's snootiest school.  We had previously debated Marfa and Sierra Blanca and the kids were generally discouraged with debating because the teams had read off their speeches from manuscripts and it was boresome to the audience.   I promised them that if they would continue working that I would match a debate with a first class team that would'nt monotonously read it off.  I borrowed Mrs. Dees new Pontiac 8 Sedan for the trip and we left at 8 Wednesday morning. We did'nt have to debate until noon so we had several hours in El Paso to shop and to drive about the city.  Mary Jo and Minna Boyd found many dresses according to their description of the stores.  Mary Jo was elated over a dress that she found in popular for only 5.95!!  She described it in minute detail.
At Austin Hi the girls and boys instantly found friends to show them about until time to debate.  The debate was held in the auditorium with an audience of about 300 people.  Six times our total high school enrollment — and that only those in study halls or with permission.  The boys debated first and lost their debate with a 3-0 decision.  The boys there outclassed them as I expected.  They had clearer, louder voices, spoke more slowly and deliberately as I had futilly taught my boys to do. But the situation was different when Mary Jo and Minna started.  The girls at Austin irritated Mary Jo to the extent that she forgot her audience and stage fright and spoke as she never did before. Her rebuttal was smooth and unbroken, and with just the right amount of sarcastic turn of her voice.  She answered with definiteness every challenge they presented. And the opposition was as I wanted.  They had a girl with a musical, vibrant voice that swelled at her command for emphasis; her colleague was excellent but did not come up to the first.  Minna Boyd did well there but Mary Jo exhibited limitless capacity.
This week, tho, came the official interscholastic debates.  It was our job to beat Marfa, a town four times as big as Van Horn and other towns represented in the meet.   Mary Jo lost the flip of the coin and had to take the negative. She wanted the affirmative because she had worked on it so much for Austin Hi.  The debaters became  almost vicious at one another and the audience was tense and silent especially during the rebuttal.  When it was all over and the judges decision came he read off 'negative' (our side), 'affirmative, and fumbled with the last card which had 'negative' on it.  Mary Jo and Minn yelled and went running out the door oblivious to the crowd of people to tell Jaime and the folks.  Mr. Lancaster was there to hear it. 
We next go to the regional meet at Alpine. If we win there, we go to Austin for the finale.
This debating has absorbed all of my time and thought. It has even drawn Jaime in.  He first came up to the school and sat around at night listening and reading while we practiced. But finally he decided to offer a little assistance until now he is an indispensible portion of a debate practice. 
A glance over this reminds me that it is 99.44% debating information.  Hope it doesnt bore you — that's all there is in Van Horn at present.  There is to be a board meeting tonite — probably will discuss flies in the Mexican School. Any more news of summer?  I may end up in Mexico again because of a peculiar turn of events that I will describe later when more is determined about it.  Is there any chance of your going (for the 9th time to ask)? Pardon the repitition — but if you should decide to go it would considerable influence my manouvers for the summer (I can not spell that word).
               Su Atto. y SS.
               Arnold Carsey
Here's what else was happening 80-years-ago today:
A dust storm hits at high noon in Dodge City, Kansas.
Jack Frost is sticking around New Mexico another beheading – this one in Germany.