(No Entry) She is still in El Paso spending time with her family.   She will head to Roswell, NM to begin a new teaching job soon.
A note on what you can expect in the months to come.  She is looking for love and seeking advice – what a fortune teller has to say about it all!
Here's what else was happening 80-years-ago today:
At the stroke of midnight the 74th United States Congress adjourned for the year, five and a half hours into a filibuster by Huey Long of a $103 million social securities bill.
The Soviet Union rejected the U.S. government's protest note, replying that it had "no facts which could be regarded as a violation on the part of the Soviet Government of its obligations."
Copies of the latest issue of the American magazine Time appeared on British newsstands with one page torn out, referring to alleged intrigues by Princess Marina of Greece and Denmark to place her husband Prince George, Duke of Kent on the throne of Greece
Grandma is on hiatus for a few days.  She was not only a big part of my life, but of my siblings as well. Below is what my  sister had to say at her funeral.
Hello everyone, my name is Alena Carsey Gfeller, I am Elizabeth's granddaughter. I have been asked to eulogize my grandmother today, and I am honored to do so.
As many of you know, this is not the first funeral I have had to attend recently. Last August, my nephew Matt (on my husband's side) died at the young age of 15. As you can imagine, Mattie's death has given me a new perspective on a lot of things. But, having gone through such a tragic event has actually made my job today easier. The simple fact is that I think we all would consider ourselves lucky to live to age 99 and to be able to say we have lived such a joyous and fulfilled life as my grandmother.
Elizabeth Lancaster Carsey did, in fact, live a very long and full life. She was born in 1909 at the turn of the century in Camagüey, Cuba. Grandma died just 3 months short of 100 years old. We can only imagine what she saw and experienced in her 99 years and 9 months of life. There are events that you and I have read about in history books, but my Grandma actually lived them. Think, since 1909, grandma witnessed changes such as in the:
1910's – sinking of Titanic and the first world war
1920's – color television, Lindburgh's famous flight
1930s – the FIRST great depression
1940's – Attack on Pearl Harbor and WWII
1950's – construction began on the interstate highway system
1960's saw the civil rights movement
And, all of this happened before I was born. I was born in 1969 – when Grandma was 60. But… we are not here for a history lesson. We are here to celebrate the life of an extraordinary woman. A woman who played an integral part of my life.
What I want to remember today and always, and what I want to share with you, is the legacy that Grandma created, the memories that she inspire including her children and her grandchildren.
As we sit here today, a day to celebrate a life – Elizabeth's life, we should remember what an amazing woman we had as a mother, grandmother, sister, aunt, neighbor or friend.
I have such vivid memories of this wonderful woman. I was lucky enough to be born and raised here in Flagstaff. I was lucky enough to have grandparents who lived just down the street. Grandma and Grandpa Carsey were always in our lives – beginning with my earliest memories as a child.
When thinking about what to say here today, my mind filled with colorful memories of this vivacious, proud, special (and sometimes stubborn) woman. My memories of Grandma can be triggered by simple words – words that associate my childhood, my teenage years and then my adulthood with my grandparents. I am sure that many of you have special ways to remember loved ones – but I think we may share many of these memories of Elizabeth via certain what I call "trigger" words..
Let's start with the word Arnold, in my mind AKA Grandpa – in more formal terms, Willaim Arnold Carsey.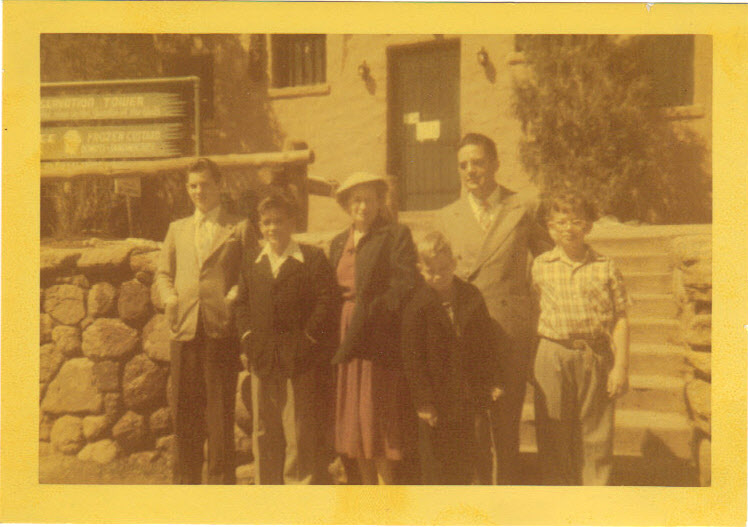 Grandpa was the love of grandma's life, the father of her children and most importantly for me, my grandfather. Grandma and Grandpa met as young teachers, they married and had 4 children – all boys, Alan, Frank, Norman and Tommy. Grandma and Grandpa were inseparable – doing everything together – working, living, teaching, raising a family, going into business with their son, traveling after retirement, taking care of perfect grandchildren. One particular memory of Grandma and Grandpa was that when taking care of those perfect grandchildren, they would talk in Spanish when they did
not want us to know what they were saying. Grandpa suffered a debilitating stroke in 1975 and Grandma never left his side. Grandpa died 10 years later having experienced a wonderful quality of life that was completely attributable to grandmother. Grandma catered to Grandpas every need during this time without complaint. Now, my Grandma and Grandpa can be together, as they always have been and should be as eternity dictates.
Another word to describe Grandma – Music! Grandma loved music. She studied music while attending DePauw University and we all know that her piano was a part of her. Grandma shared her gift of music with her countless piano students from the neighborhood, her family, friends and pretty much anyone who wanted to listen. I know I will always remember the music that filled her home.
Mexico. Grandma spent many of her young years living in Mexico with her missionary parents and siblings. Anyone who ever stepped foot into Grandma's house – knew of her love for Mexico. Yes, that little red house with the lime green carpet and lime green walls was filled to the brim with Mexican art, rugs, and knickknacks. Also, her enchiladas were fabulous!
Red. Grandma loved the color red. She had a red house, red cars, loved red everything.
Pretty much the only thing about this woman that was not red was her thumb (which was undeniably green).
Christmas – Grandma loved Christmas. As many of you may remember, as I do, Grandma played bells right here at Trinity Methodist. I can vividly remember sitting in these pews year after year watching and listening to the Christmas concerts of bells and being so very proud that MY grandma was part of such a beautiful concert. In addition, the word Christmas for all of the neighbors from Smokerise will be reminiscent of the Christmas pageants at the Carsey house year after year. The camaraderie, the festivities and the music that filled that little red house. You may also remember that my brother (Warren), sister (Shanna) and I were the nativity scene  (Mary, Joseph and the Angel) year, after year, after year…
These are but a few of the memories that I have of my grandmother. I am sure that each one of you sitting here today has a loving and lasting memory of this very special woman..
I can only hope that I can inspire my children and grandchildren as Grandma has inspired me. I find comfort that Grandma is in a better place. I find comfort in knowing that I was a part of her life.
Look around. Who has come here to celebrate Elizabeth's life. I see family from as close as Flagstaff, to as far away as Seattle and Miami. I see friends including neighbors and church goers. I see what an impact my grandmother had on others. This is a tribute to her, to her life and her lasting legacy.
I thank you for letting me share my thoughts and memories. My memories run very deep for my very special grandma. I love you Grandma – rest in peace and say hello to Grandpa for me.