(This is an entry from the journal entitled Mexico Summer written by Elizabeth Lancaster Carsey 80-years-ago. Click here to read more)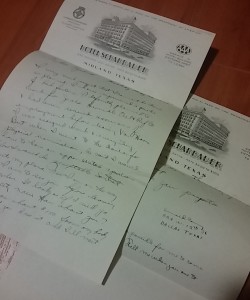 Letter from Carsey saying he had to have an appendix operation before going in with Humble Oil Co!!! Am I having the jitters!  He wrote me at Midland, Texas, but told me to write to 824 W. 12th St in Dallas.   Hope he can go to Mexico as planned.  Alyce Claire and I ate supper with Pete and Velma.  My home room gave me a fruit shower today so we had fruit salad.  I was certainly surprised by the shower. Wayne, George Sisneros, Daniel Franco, Pete and Albert were the ringleaders, I think!  Saw in the paper where the Univ. of Mexico was closed by the gov't!
                                                             Monday May 20, 1935
My Dear Elizabeth;
   I very much regret that I cannot be there as planned. I have experienced a pie de of bad-fortune.   I definitely planned to work for Ze ole Humble Oil & Refinery Co. & had even secured assurance of employment before leaving Van Horn.  I was assigned work & everything.  But when I went to the doctor for physical examination, he said I would have to have an appendicitis operation before I would  be acceptable.  So  that upsets my plans.   Now I am on the way home.  I am to see you before leaving from anywhere. It looks as if I will go to Mexico City now.  How about you?
Borrow about $150 from anybody that will let you have it and I'll meet you at the Regis  some Thursday afternoon at 4 o'clock sharp.
  Write me your prospects pronto to   
                                                          Arnold Carsey
                                                        824 W. 12th St.
                                                       Dallas, Texas
P.S. If it is possible for me to come I will wire you – Tell me when you are to leave. 
Here's what else was happening 80-years-ago today:
The president's veto may not stand.