(This is an entry from the journal entitled Mexico Summer written by Elizabeth Lancaster Carsey 80-years-ago.  Click here to read more)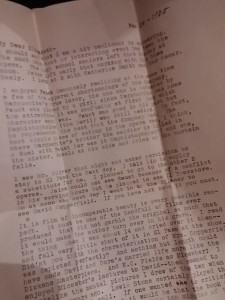 Letter from Carsey telling of Il Trovatore, etc. Just came in time.  Bernard took me to the bus at 2:30. Got home at 2:55.  Saw Douglas & Freeman at Pecos.
Feb 19 – 1935
My Dear Elizabeth- 
I should say that I am a bit negligent in answering. I should say that  the most important or interesting event has been at the opera.  The high school seniors left that Monday at noon. Jaime left early that morning with his boss Neely.  I left at 3 with Catherine Smith and her Oscar. 
I enjoyed Faust immensely realizing at the same time a few of the apparent shortcomings of the company.  Marguerite's true lover, this one who is defeated by Faust was played by a girl; since Marguerite was none too attractive it was confusing at first just which character each was.  Faust was good in his part but Mephistopholes ( the Devil) was still better.   In fact, he represented the best that the Company had.  The best single piece of acting in the opera was, I think, where Marguerite's brother the soldier is killed in a duel with Faust (or was it Mephistopholes?) and she, the sister, kneels at his side and cries as the curtain falls.
I say Mr. Oliver that night and asked permission to stay in El Paso the Next day.  I told him to employ a substitute for me.  I planned to go to the other 2 operas.  Jaime could not see Faust because of a conflict in his working hours but He planned to see Il Trovatore.  So at noon the next day I went in to the Ellanay to see David Copperfield.  If you have not seen it you must. 
It is a film of incomparable beauty is every possible respect.  It must be one of the handful of films ever produced that did not garble the original so much that it would make the author turn over in his grave.  I read the thing when I was about 14 and cried over it then — and fell very little short of it in El Paso at the show. Didn't you think the characterization of Mrs. Copperfield was depicted perfectly?  And nothing but length could have made David and Dora's married life more like the Dickens Masterpiece.  And W.C. Fields as Micawber! I enjoyed Micawber's lectures to David–they seemed t crystalize the mental pictures I drew of the two when I read it years ago.  Lewis Stone certainly played the part of Wickfield well.  If one wanted to criticize the thing, I suppose that it would be that the book was not all dramatized in the two hours ten minutes of the picture. 
That night Jaime, Catherine & Oscar and I all went to see Il Trovatore.  It was the best the San Carlos Company put on according to the best Critics.  The scene where the Anvil Chorus was sung was fantastic.  The smiths had hammers that were electrified, and when they hit the anvil it created a spark.
Jaime and I spent last Sunday at the Hazel Mine 14 miles near here. We went down on a shaft used for hauling up ore, carried some carbide lamps in our hands and explored the furtherest reaches of the mine. Practically all of the mining machinery of the thing has been moved except aparatus for bringing ore up. Ore is sent to smelter in El Paso now. 
No school this morning on account of the death of a Mr. Daugherty — you remember the fellow who always carried the mail in from the train to the post office. Your father is in charge of the services.  I went over to the church and couldn't get in because of the crowd.
What do you plan to do this summer?  I have been mulling over it of late.  If I don't do something concrete about it I won't have any money to do with.   I have been a bit too enthusiastic over clothes. You ought to see my new suit ( or did I mention it before!) I paid and unthinkable price for it.  It is a Kupenheimer brown, rather reddish or rust colored brown but dark with an almost imperceptible check in it.  Naturally I had to buy a hat, shoes and socks to match.
Am hoping to see Clive of India next Saturday.  We get off Washington's birthday, Do you?
No se olvide escribirme   (do not forget me)         
                                                                                                                                     arnold 
                                                                                                                                                   carsey